At PaperDueNow, it is now possible to make money with the Referral Program!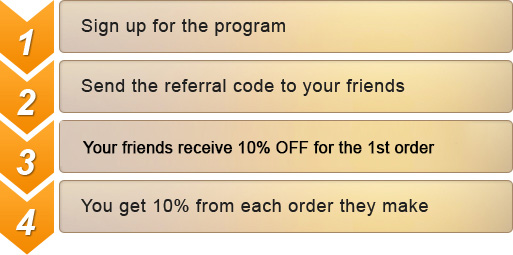 You will be able to start making money in no time if you join the Referral Program today.
How Our Referral Program Works:
Register to have an account.
Locate special referral code in your personal account.
Share the code with your contacts.
Your friends get 10% off when they make their first order and become your referrals. From every order that your friend makes YOU get 10%!
Will I be able to use the referral code?
Only your referral can use the code. For more information on special offers and saving options policies, please, visit our Prices page.
Can the referral code be used more than once?
The referral code will work for your friend just once. For the next orders, you can get 5% or 10% off. To learn more, visit the designated Prices page.
How can I find out how much money I have earned?
You can check the total amount in your personal account at PaperDueNow.com.
How do I make a withdrawal?
Withdrawals are possible after you earn at least $100. Please note that your payments will be made from the 16th till the 20th day of every month. To withdraw your money, please email us at support@paperduenow.com and provide your payment details at least 4 days prior to the payment date.
What payment options are available?
In our Referral Program, we use Webmoney, PayPal, and Payoneer.
Okay now, once again: invite your friends, wait when they make a purchase, get profit! Yes, it's that simple to earn money with PaperDueNow.com!